When digital watches took the world by storm in the early 70s, people thought they would soon overtake analog watches in popularity. And why not? Digital watches for men are not only sporty, they also bring a host of creative features. From G-shocks to the Apple Watch, the concept behind a digital watch has undergone a paradigm shift over the past two decades.
Considering the high-tech features and range of styles that appear every year, a digital watch is not a bad bet to invest in. If you're considering buying watches for the men in your life or for yourself, here are a few things to keep in mind.
How to choose the best digital watches for men?
The market is flooded with an array of luxury digital watches and smartwatches that come with the most innovative and convenient features. With so many options to choose from, it can be difficult to decide which watch might be right for you. Key things to consider when choosing a digital watch include material, style, features and, of course, budget.
If you are particular about your style, you can opt for something that combines the goodness of a digital watch with the looks of an analog watch. For example, the Fossil Retro Anadigital Watch (Buy it for Rs SGD 249 on Shopee) is a product that combines the sleek old school look with innovative features like water resistance and electroluminescence. Moreover, such a watch will go well with any look or outfit.
Then you need to narrow down the features you need. If you want a multi-function product, go for something like the Nixon Regulus Expedition (Buy it for SGD 470.45 on Lazada). It helps you track the weather while guiding you with directions if you get lost.
Here are some of the trendiest digital watches designed for men
(Main image: Courtesy of Thujey Ngetup/Unsplash; Feature image: Courtesy of Peng Productions®/Unsplash)
Go to / Table of Contents
01
Casio G-Shock digital watch with black ion-plated metal bezel and camouflage dial
Check out Casio's G-Shock digital watch which features a stainless steel cover and adds a classy touch to the overall design. The dial features a dotted camouflage pattern that evokes a military theme. Other great features include flash alerts, 200 meter water resistance, and an automated schedule. The style of the watch is such that it goes well with any attire.
(Image: Courtesy of Amazon)
02
Fossil Retro Anadigital Watch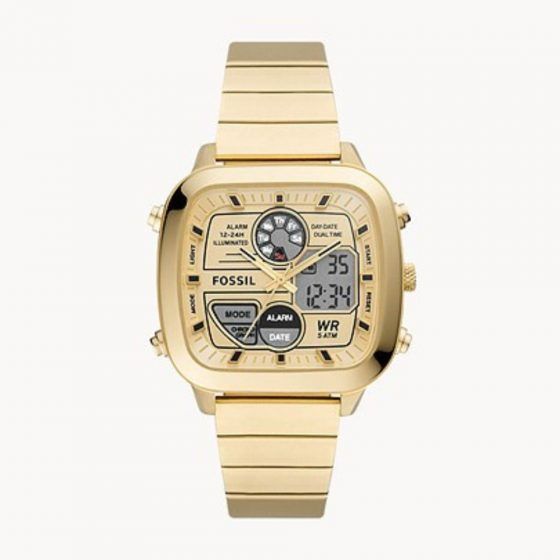 We bet you can't take your eyes off this gold analog-digital watch from Fossil. It comes with a double button closure, which allows the watch to securely clasp your wrists. With 5ATM water resistance, this watch can be worn easily for a day at the pool and won't let you down when you're swimming.
(Image: Fossil with kind permission)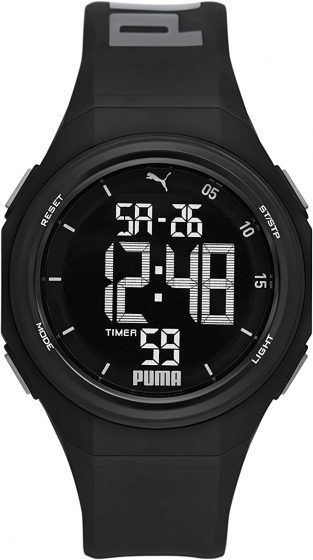 Say hello to the 45mm Puma Watch 9 which comes with a negative display dial. This product can be your reliable watch during quick swimming sessions. While the polyurethane strap is comfortable on the skin, the digital chronograph movement helps you always keep track of time.
(Image: Courtesy of Amazon)
04
Timex T80 34mm Stainless Steel Strap Watch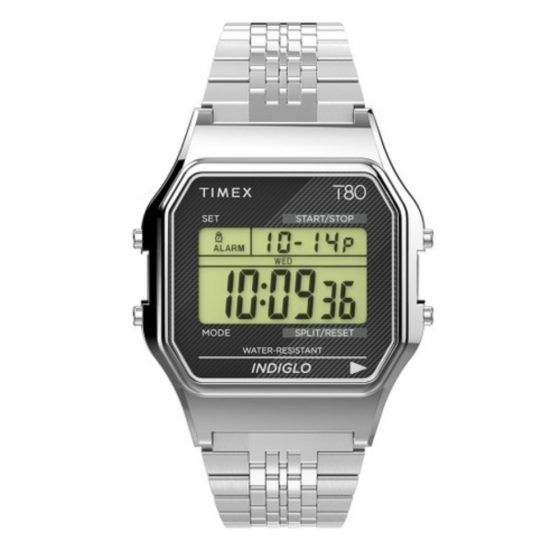 When it comes to watches, Timex never disappoints. This one is a recreation of the brand's early digital watch models, with a stylish retro theme. From a date display and powerful backlight to an alarm, this Timex watch has a lot going for it. Moreover, the stainless steel bracelet gives an elegant touch and goes well with any outfit of your choice.
Image: Courtesy of Zalora
05
Guess digital tonneau watch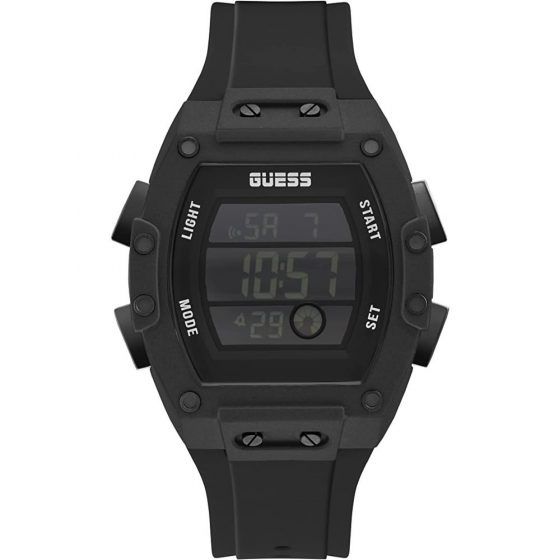 Looking for a classic black digital wristwatch? Well, here's one for you! The Digital Tonneau watch is made by Guess and is ideal for those who like to flaunt a sporty and casual look. It is waterproof up to 50 meters, so it is recommended to avoid wearing it for scuba diving or snorkeling.
(Image: Courtesy of Amazon)
06
Diesel Chopped Digital Silicone Watch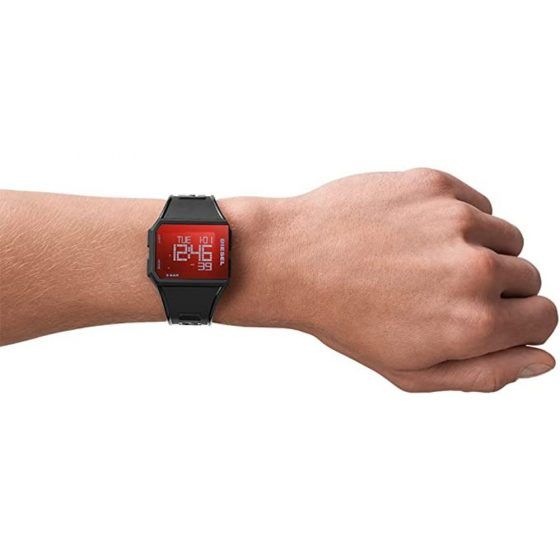 With a classic red display and black body, there's nothing not to like about this chopped new 38×33mm digital watch from Diesel. The silicone strap hugs your wrist comfortably, causing no discomfort. The negative display screen is in focus, showing you the date, time and day.
Image: Courtesy of Amazon
07
Fastrack Trendies Digital Watch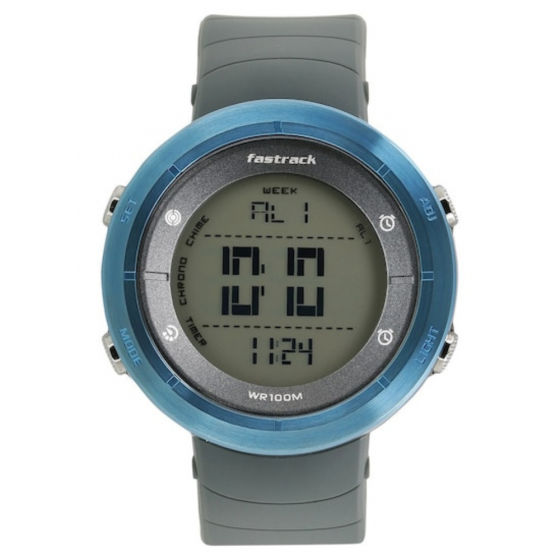 Treat yourself to this fashionable digital watch from Fastrack because your wrist deserves it. Its unconventional styling features a polished blue ring rim around a gray dial to create an eye-catching contrast. The dial tells you the world time, day of the week and comes with an alarm.
(Image: Courtesy of Fastrack)
08
Nixon Regulus Expedition Men's Digital Watch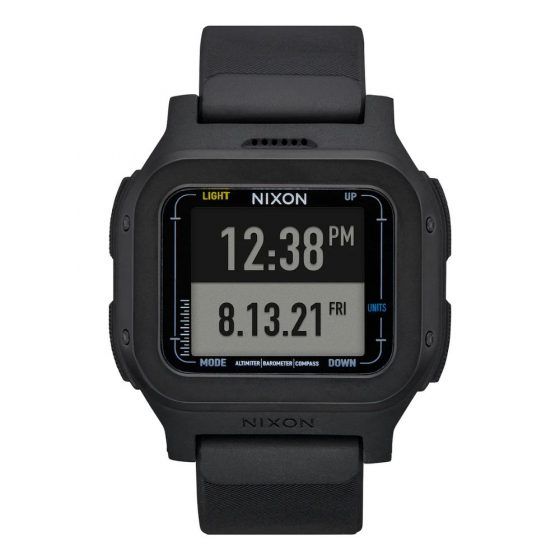 Transform your dull outfit into a super cool one with this digital watch from Nixon's Regulus Expedition collection. The sports watch brings together many adventure-specific features such as an altimeter, barometer and compass. While the matte black layer gives off a businesslike vibe, the incredibly bright MCLD display screen contains all the information you would need for your day.
(Image: Courtesy of Nixon)
09
CAT Bolt Men's Digital Watch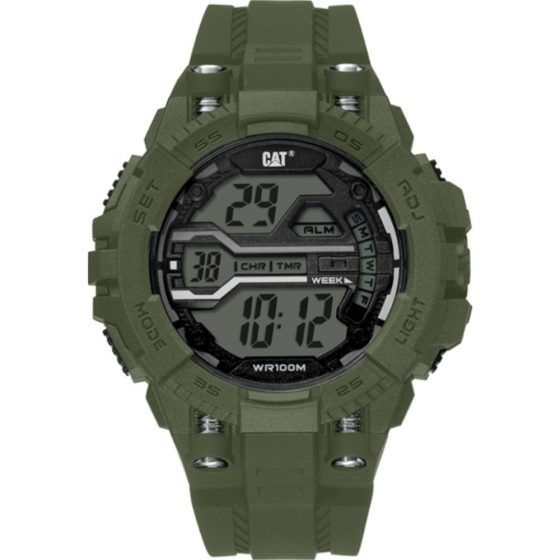 Enhance your personality with this military green digital watch from CAT. With a case thickness of 16.6mm, this watch is sturdy and super adaptable. It is water resistant up to 100 meters and the PU strap ensures that the watch fits your wrist snugly even when you are engaged in underwater activities.
(Image: Courtesy of CAT)
ten
Philipp Plein Hyper Shock digital watch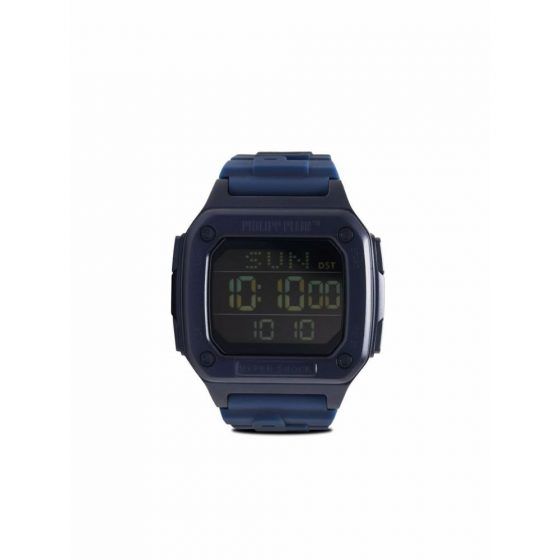 Philipp Plein is known for its luxury watches and the hyper shock digital watch is no exception. Crafted from stainless steel and sporting a sleek navy blue rubber strap, this watch transitions seamlessly from day to night. This watch truly has the potential to turn heads at any event you wear it to.
(Image: Courtesy of Farfetch)
Frequently Asked Questions (FAQs)
Question: Are digital watches still in fashion?
Answer: With brands incorporating innovative features into their watches every year, stylishly designed digital watches for men are here to stay. Plus, they come with an array of features including heart rate tracking, countdown timer, multiple time zones, and calendars displaying alerts on sleek digital screens.
Question: How to style a digital watch?
Answer: Although digital watches pair well with casual outfits, you can also experiment by pairing them with a formal suit. Something like the Fossil Retro Anadigital Watch can make any outfit look fashionable and stylish.
Question: What are the cheapest digital watches for men?
Answer: Puma and Fastrack make affordable and some of the best digital watches for men with innovative features.
Question: What are the most expensive men's digital watches?
Answer: If you prefer luxury watches, you might want to check out products from Philipp Plein, Timex and Fossil.
Question: Where to buy the best digital watches for men online?
Answer: Amazon, Farfetch, Myntra, and Flipkart are some of the most trusted online stores that offer fashionable digital watches for men.