Almost every retailer has a plan to green their operations, from sourcing more sustainable products to embracing solar power, and on Earth Day, these efforts come to the fore. At a time when 84% of companies have incorporated corporate social responsibility into their business strategies, it can be difficult to develop programs that stand out as truly unique.
Of course, there's nothing wrong with proving themselves, but unique approaches to developing internal sustainability and educating shoppers about its importance can serve as inspiration for industry retailers. Here is four companies — Sendle, Carter's, Fossil and walmart — which are distinguished by a combination of creativity, comprehensiveness and vision.
Sendle: Visualizing the impact of last mile delivery through art — a big cardboard bear
Sendle is a solutions provider dedicated to year-round sustainability. The service helps small retailers reduce the carbon footprint of their deliveries to net zero by first calculating the highest amount of carbon that could be generated by a given parcel shipment, then taking steps to mitigate the impact. Sendle incorporates retailer deliveries into existing carrier orders to avoid the need for additional travel, then offsets the remaining impact through green partnerships like restoring rainforest habitats and supporting a bird sanctuary. in South Carolina through its partner, South Pole.
Approximately 165 billion parcels are sent across the United States each year, and Sendle wanted to draw attention to this fact for Earth Day. The company therefore teamed up with Canadian artist Laurence Vallières to organize a special installation at Lake Union Park in Seattle: a 10 foot grizzly bear made from recycled cardboard.
"The starting core of this campaign was that people have been on autopilot with online shopping since the pandemic began," said Veena Harbaugh, director of sustainability at Sendle in an interview with Retail Touch Points. "These boxes are piling up in people's homes, and we wanted to create a place where they can have a moment of realization that it doesn't magically happen on your doorstep. We just wanted to make the connection between the habits shopping online, the cardboard used and the invisible carbon impact that people don't see, really, really clearly.
The bear and the city were chosen for the way they symbolize the environmental impact of the last mile. The grizzly bear is endangered, with only 1,500 left in the United States outside of Alaska due to habitat loss and climate change, while Seattle is an e-commerce and logistics hub that plays a big role in how packages are sent across the country.
Sendle adheres to the same environmental standards that it helps retailers achieve, and the company aims to achieve net zero environmental impact across all of its operations by 2030. Efforts like this, along with educating consumers, will be key to building a greener future.
"What we have seen is that there is a growing demand for sustainability among consumers, but so far it has focused on sustainability and ingredients at the product level, with a bit more of research into where things are made," Harbaugh said. "Consumers don't really know that carbon-neutral delivery is an option."
Once the exhibit is over, the sculpture will be broken down and the material recycled again by Republic Services Cardboard Recycling Center in Seattle.
Fossil: saving plastic from a watery grave and exploring new materials
While upcycling is an ongoing trend for sustainability-focused retailers, Fossilis takes the concept to the next level by giving plastic waste a whole new life. The characteristics of the #tide ocean line of materials of them solar-powered watches made from ocean-bound materials that use rechargeable batteries to keep more trash out of landfills.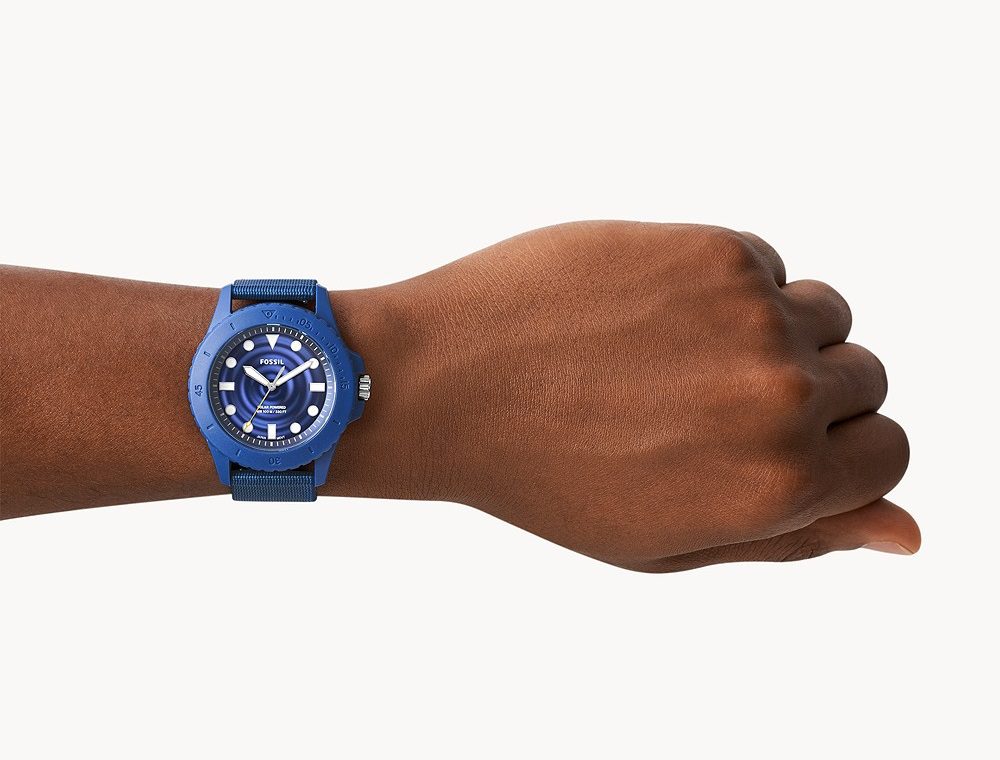 "#tide ocean material recycles ocean-related plastic waste into a premium second-life raw material," a Fossil spokesperson said in an interview with Retail Touch Points. "The material comes from ocean-bound plastics that are collected and processed, in part by renewable energy, into #tidal pellets. These are then repurposed into sustainable plastic reinforced with natural fibers and used to make components of these solar-powered FB-01 watches.
All-natural renewable materials also play a role in Fossil's efforts. The Joshua Cactus Leather collection includes wallets and handbags made with material developed from organically grown cactus leaves, in partnership with Desserto. In addition, the items use a REPREVE lining in 100% recycled materials. Cactus plants only need rainwater for their growth, and even the process of creating leather is green.
"Once harvested, the leaves are dried in the sun for three to six days, eliminating the need for any additional energy sources for the drying process," Fossil said. "Not only is it an energy-efficient treatment technique, but no herbicides, pesticides or irrigation systems are used in the production of the cactus. In addition, the trunk of each cactus is left intact to allow for repeated harvesting, as the leaves regenerate each six to eight month."
The latest efforts build on Fossil's Make Time For Good initiative, launched in 2019 with the aim of developing a more sustainable future. The product and design teams worked to develop the brand's assortment of eco-friendly materials and partners.
Carter's: Building a cleaner future for its most important customers – Children
The greatest beneficiaries of environmental causes are the children who will inherit the results of our actions. That's why Carter's adopted the Raise the Future environmental, social and corporate governance strategy to guide its development through multiple initiatives, including product labels, a new line of sustainable products and a product recycling program. .
"Carter's goal is to inspire generations to prepare for the future and create a world where all families with young children – including future generations – can grow and prosper," said Tony Robinson, vice-president. Senior President, Corporate Social Responsibility at Carter's in an interview with Retail Touch Points. "Because of this perspective, our family of brands is committed to doing its part to create a better planet for this generation of children and generations to come."
A key part of the ESG strategy is to help shoppers stay informed, which Carter's is achieving with new labeling and labels that clearly identify sustainable products. Icons appear at multiple consumer touchpoints and note which items are OEKO-TEX Certified, GOTS Organic Certified, made from recycled materials (Sherpa and Poly) or part of the "Heirloom Collection" of the most sustainable silhouettes and timeless Carters.
The new Little Planet brand of sustainable products can be found in 90 stores and will expand to 200 in 2022. The line is also expanding its selection to include toddler sizes and additional categories such as bedding, swimwear and shoes made from recycled materials. Additionally, Little Planet uses hangers made from recyclable cardboard and is sold in 100% recyclable polythene bags
Upcycling is also supported by KIDCYCLE, which allows families to recycle old clothes in partnership with TerraCycle. In 2021, the KIDCYCLE program saved 8,300 pounds of materials from landfills. He will build on this success with pilots in 46 stores.
Carter's commitment to future generations goes beyond sustainability: Carter's Cares, a program that focuses on helping children in need with an emphasis on literacy in early childhood education childhood, committed to volunteering more than 200,000 hours and invest more than $50 million towards early childhood education by 2030. In 2021, the program reached two million lives with 17,000 volunteer hours and $10 million donated (cash and product) to organizations focused on improving the lives of children.
Walmart: Developing sustainability by connecting suppliers and sellers
Large retailers like Walmart often have ambitious sustainability goals, such as the retailer's commitment to achieve 100% recyclable, reusable or industrially compostable packaging by 2025. Where the retail giant is innovating is by onboarding its smaller suppliers as part of the Circular Connector, an online tool designed to bridge the gap between companies to looking for more sustainable packaging ideas and those that offer them.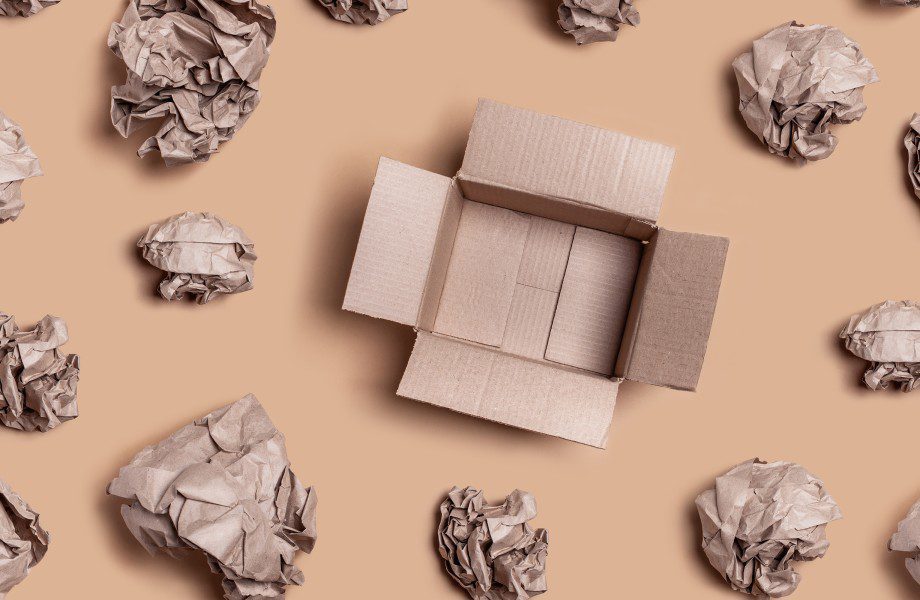 "We want to enable sourcing teams and brands to quickly find sustainable packaging solutions – enabling us all to act faster together to reduce waste for our communities, our oceans and our environment," said said Ashley C. Hall, director of Strategic Programs at Walmart in a statement. "And as you know, Walmart aims to improve efficiency. With the Circular Connector, we expect the journey to become easier for brands and innovators to identify and implement more sustainable packaging solutions. . »
Walmart's recycling manual provides examples of materials that are difficult to recycle and that could disqualify innovations from inclusion in the circular connector. Items such as PVC, metallized films, and biodegradable additives in petroleum-based plastics may have their uses in a greener future, but currently these materials are not compatible with Walmart's vision for its own sustainability program. .