We are testing a range of Seiko Prospex dive watches.
Mark Evans: Seiko has a rich heritage when it comes to diving watches. The company released its first diver's watch in 1965 and also designed the expansion strap, to keep it tight on the wrist during changes in pressure, and an L-shaped seal that achieved world-class waterproofness. Always an innovator, the brand launched the world's first computerized dive watch in the form of the Scuba Master in 1990, which was fitted with water and depth sensors so it could display dive time and depth, and this was followed in 2000 with the Diving Computer Watch, which, as its name suggests, was a true precursor to many of the wristwatch-style dive computers on the market today.
Over 55 years later, Seiko is still producing strong, reliable and desirable dive watches. Head over to Seiko's website and click on their Prospex range and you'll literally be spoiled for choice as there are a myriad of versions available.
Seiko Prospex Saves the Ocean 'Royal Tortoise'
I took a selection for the trial dive just to whet your appetite. the Seiko Prospex Save the Ocean 'Royal Tortoise' SRPF77K1 (SRP: £550) is particularly noteworthy. At first glance, it looks like a traditional, old-fashioned diver's watch. Water-resistant to 200m, it has a screwed back and a screwed crown (in the 4 o'clock position, rather than at 3 o'clock, which I prefer, both aesthetic and practical – it catches things less), a large unidirectional bezel that is easy to adjust even with thick neoprene gloves, a durable sapphire crystal with magnifying glass for the date, LumiBrite on the hands, hour markers and bezel for easy reading in any light conditions, and a comfortable silicone strap, which s will fit around an arm in a wetsuit or around the wrist of your glove if you are wearing a drysuit.
So far so good – and with the hand-wound automatic movement, you'll never have to worry about missing the "off-the-rope" dive boat again!
It is by looking more closely at the dial that we understand why it is a special edition. Manta rays can be seen gliding across the face. The image is extremely subtle and you really have to look at the watch closely to see the rays – from a distance the dial appears to have a bluish color scheme. I love little details like this – it really makes the watch stand out from the crowd.
Seiko Prospex PADI Chronograph
Seiko is also the only watch company to work with PADI, and is the official partner of the PADI AWARE Foundationfrom the PADI Marine Debris Program, helping to fund local ocean protection initiatives hosted by PADI dive centers. As well as supporting Dive Against Debris through this program, they also offer a range of Prospex watches featuring the PADI logo and the PADI blue/red color scheme, and donating a portion of the proceeds from the Save the Ocean collection. .
One of the most eye-catching is the PADI Prospex Chronograph SSC785P1, with its stainless steel case, red and blue unidirectional bezel and durable blue rubber strap. Solar-powered, the PADI Chronograph has a smooth black dial that contrasts starkly with the LumiBrite hour markers and hands, which get an extra "pop" with bright red accents at 12, 3, 6 and 9, and on the minute. hand. This bright red goes well with the red of the unidirectional bezel and the red details of the screw-down crown. As with the aforementioned King Turtle, it will fit around a wetsuit arm or the wrist of your glove if you're wearing a drysuit, and the bright color certainly stands out against the black neoprene.
If the vibrant PADI color palette is a bit to your liking, Seiko also offers a solar-powered system. Prospex Sumo Chronograph in more subtle tones, the SSC759J1 (SRP: £550). This has a blue dial with a deep blue unidirectional bezel, sapphire crystal, LumiBrite on the hands and indexes, and a black silicone strap.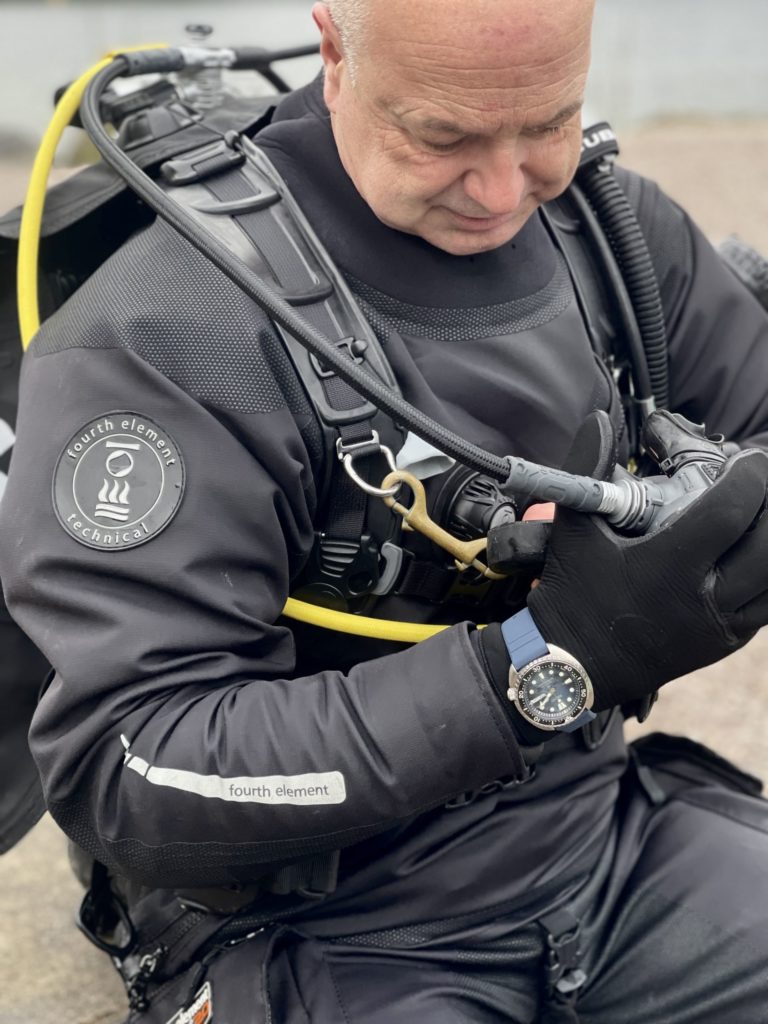 In this modern era, many divers choose to dive with a computer, whether it is a console, wrist or even wristwatch variant. Some may choose to wear a diver's watch as a secondary timer as a backup – and all Seiko Prospex series are capable in this regard – but on the whole you'll find avid divers wearing their diver's watches when out and about. some water. A diver's watch on your wrist signifies to others, especially other divers, that this is what you are – a diver. And of course, there are those who don't dive but want to wear a diver's watch to look like a diver – and there's nothing wrong with that!