Guys looking for a style that goes way beyond their wardrobe can count on adding accessories to kick up their prep game. Watches have always been a sign of sophistication, sportiness, sex appeal and swagger. Even if a man doesn't like bracelets or necklaces very much, a watch is definitely another story. In fact, it's an everyday essential that perfectly combines fashion and function.
Below are the eight best digital watches for men. They are sleek and stylish, bringing all the modern elements of technology to a watch. At different price points and with a range of designs, there's something for anyone looking for a digital watch that shows off their personality and preferences.
Nixon Regulus Watch
Masculine and robust, the Nixon Regulus watch is quite the showstopper. On your wrist, its chunky aesthetic cannot be missed. Made in partnership with the US Special Operations Corps, this unique design is powerful and prepared for whatever the day may bring. the Regulus is very durable, water resistant and well protected, and the adjustable light is a nice bonus. Nixon knows what they're doing, and if you choose this watch, you'll be on board with the best.
Cost: $165.00
buy now
Fossil Slater Digital Smoke Stainless Steel Watch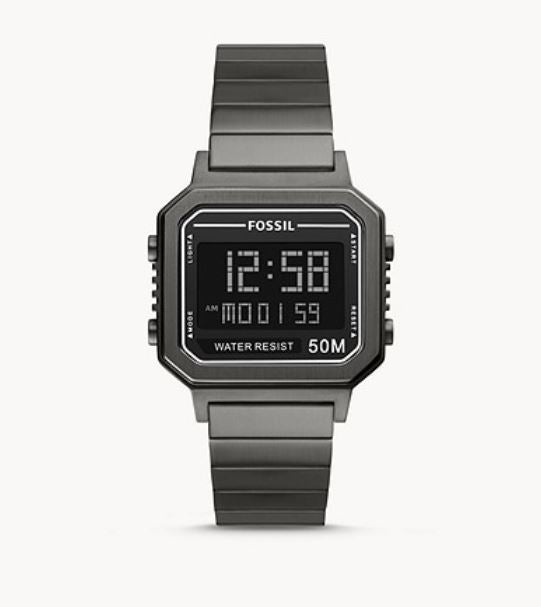 Fossil pulls it off perfectly with a simple everyday design, a snug fit and good support, and a great price to boot. The screen of the watch is simple with all the essentials without too much interference. The basics are covered. Any guy would look great with the Slater Digital Smoke Stainless Steel wrist watch, and the style ranges from casual to formal, suitable for any occasion. Water resistant and portable, this one is a no-brainer.
Cost: $47.60
buy now
Bulova Computron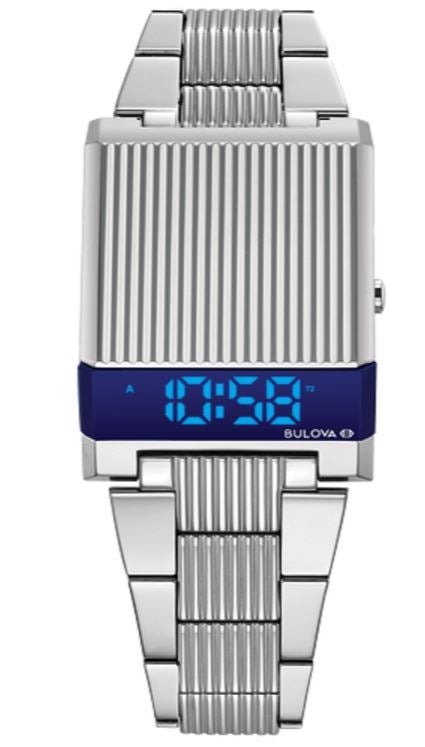 This beautiful Bulova watch looks super futuristic and fun, even though the design is retro in nature. Created with gleaming and flawless stainless steel, the Computron is chic and cool, with a bright blue display and eye-catching angles in its craftsmanship. Any man who wears this Bulova piece is sure to have plenty of adoring fans marveling at his eye for accessories. It's hard to pass up a gem like this. With this watch on your wrist, you can keep your wardrobe simple while standing out from the crowd. Or, jazz it up and go for a full fashion moment. Anyway, the Computron is clearly a winner.
Cost: $245.00
buy now
Adidas Archive_MR2 Watch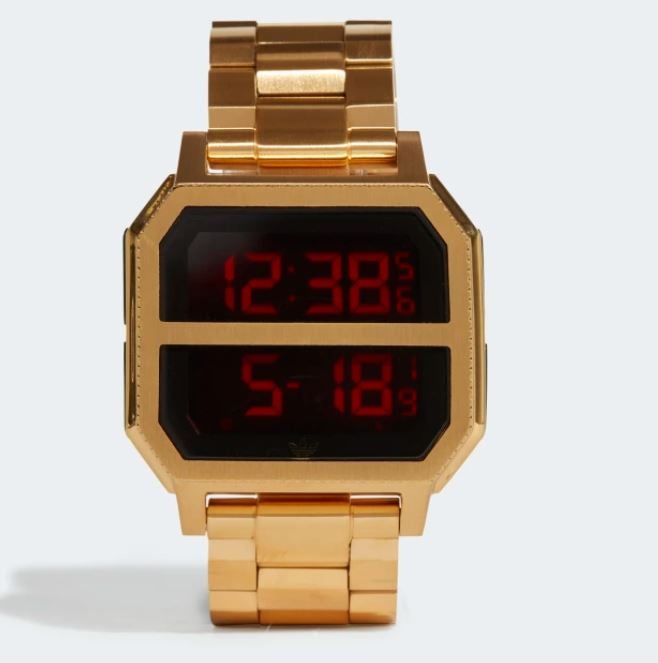 Adidas is best known for its sportswear and sneakers, as well as other sports equipment. However, they take their accessory game to a new level with the Archive_MR2. The gold and black design is sleek and creative, with a bracelet-style bracelet that's perfect for any gentleman who knows how to dress to impress. It looks like a classic, but with a modern edge that exudes elegance. The calendar function and the water resistant elements make this watch very special. Pair this watch with your other Adidas items for a head-to-toe look that's accessible and achievable all day long.
Cost: $140.00
buy now
Guess black silicone watch with black case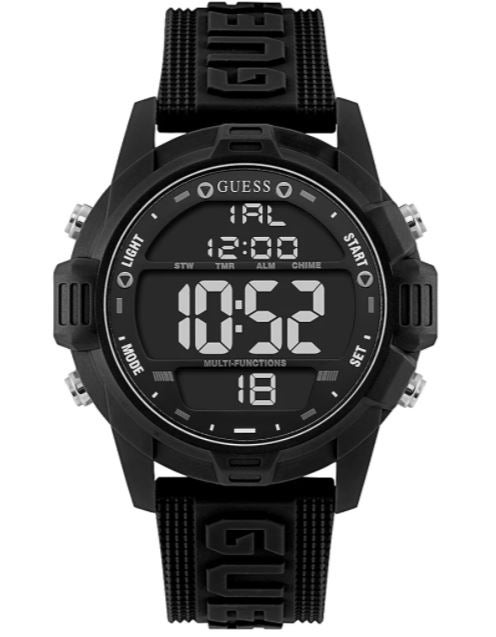 Casual and comfortable, this affordable watch from Guess is an everyday item that men can put on and go without a second thought. Well equipped with the basic functions, this water resistant watch is a great gift or something simple for yourself. The folks at Guess never fail to keep up with fashion trends, and this accessory does the trick perfectly. You'll wear this Guess digital watch for years without worrying about it looking outdated or out of touch. Guess take it to guessfinished accessorizing!
Cost: $48.30
buy now
Armitron Climax 49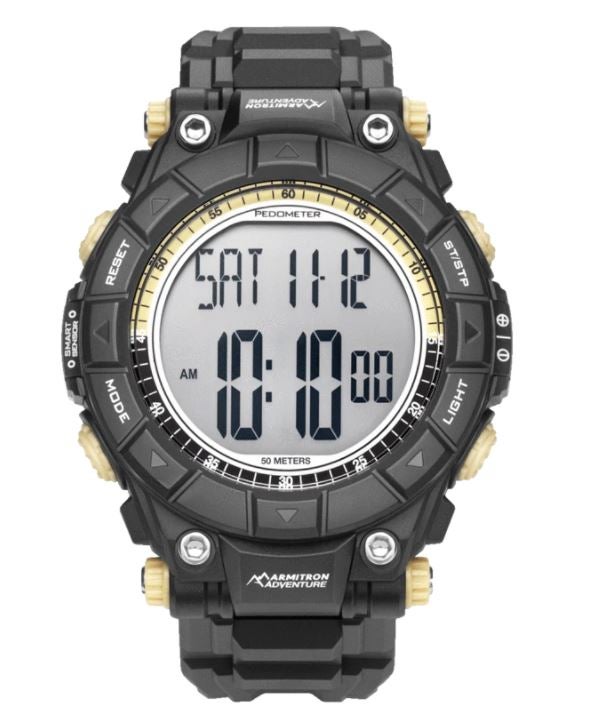 The round face and rugged appeal of this Armitron watch appeals to men who prefer a chunky watch to something slim or sleek. The bold styling is outward and obvious, creating an unmissable focal point for your overall look. the Climax 49 is water resistant and also has a helpful pedometer and calorie counter, so get ready to get moving and keep metrics while you're at it. No more excuses!
Cost: $45.00
buy now
Connected citizen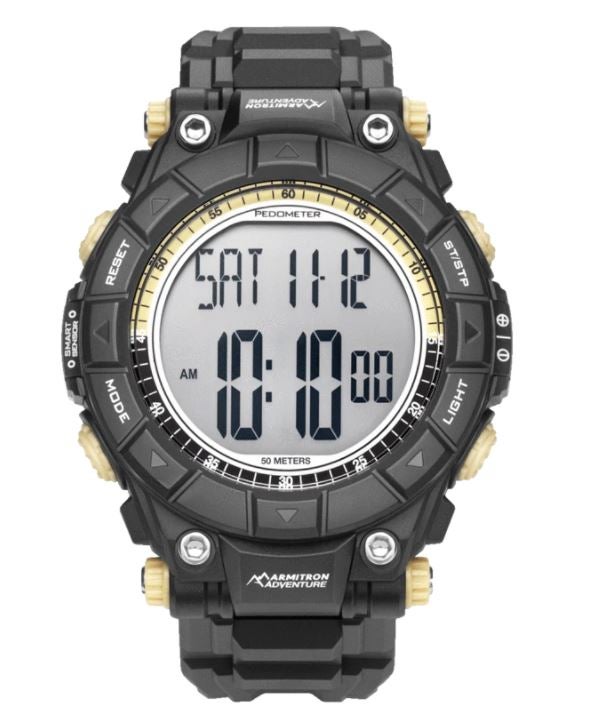 This hybrid watch from Citizen can connect to your smartphone, bringing high-tech capabilities to a classic design. The blue dial pairs well with the stainless steel design of the watch, and the overall appeal of this timeless, technological accessory is perfect for today's modern man. Use the watch to simply tell the time or take advantage of its convenient Bluetooth connectivity to listen to music, track your fitness and more. Versatile means business and Citizen is on the ball.
Cost: $177.00
buy now
G-Shock GM5600-1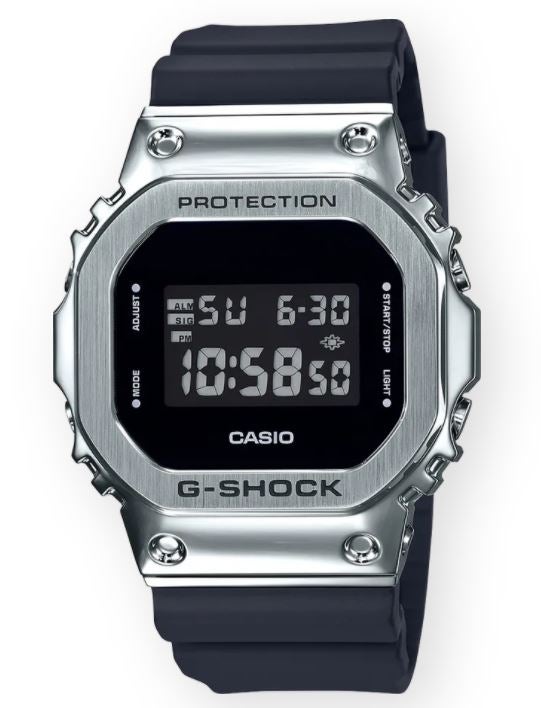 G-Shock knows how to design a standout watch, and their GM5600-1 is a force to be reckoned with. An overall rugged design with shock resistance gives this waterproof watch a masculine energy. It really showcases a man's confidence as well as his smart sense of style. Despite its rugged exterior, the watch is surprisingly light and wearable all day. The backlight is easy on the eyes, which is a plus since you'll be staring at this high-quality number all day.
Cost: $180.00
buy now
A high quality watch will enhance your look!
Whatever your taste in digital watches, you're sure to find one on this list that suits your taste and budget. Of course, you can tell the time on your smartphone, but adding an element of style to your look is always a plus. Treat yourself this holiday season or any time of the year with one of these eight best digital watches for men. Trends come and go, but your watch should be something that will last you a long time.
Subscribe for the latest trends
If you want to keep up with all the latest men's trends, be sure to subscribe to SWAGGER magazine today. Our team searches for the best and most popular products that are sure to improve any man's life. Trust us, you won't want to miss our top recommendations and tips!
Subscribe now